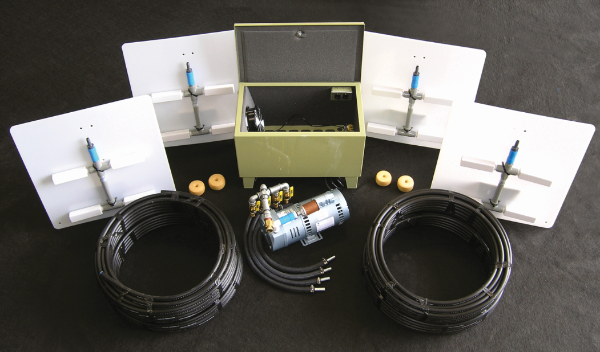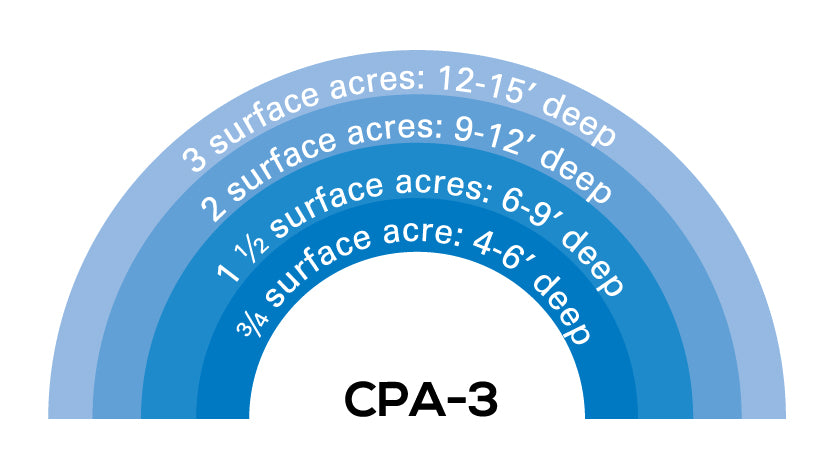 Complete Pond Aeration: Large Pond & Lake Systems: CPA-3, 4, 5 & 6
Specifications Chart
Large Pond &amp Systems Specifications &amp Pricing
Product
Compressor
# of Diffusers
Airline
Price
CPA-3
3/4 Hp
3 synergistic lift diffuser templates
600 ft.
$4,799.99
CPA-4
3/4 Hp
4 synergistic lift diffuser templates
800 ft.
$5,399.99
CPA-5
3/4 Hp
5 synergistic lift diffuser templates
1000 ft.
$5,879.99
CPA-6
1 Hp
6 synergistic lift diffuser templates
1200 ft.
$6,359.99
Large Pond & Lake Systems are an ideal and cost effective way to aerate and destratify. In large, elongated or irregularly-shaped water bodies, the placement of the diffuser stations is highly dependent upon lake characteristics, including surface area and variations in depth.
Large pond and lake complete pond aerators utilize a rotary vane compressor and an appropriate multiple outlet valve assembly to simultaneously operate 3-6 diffuser stations. The compressor and associated gang-valve assembly are set into a ground based, powder-coated, steel cabinet that includes a power receptacle, ventilation fan and a sound-reducing, foam lining. Self weighted airline is included with each unit. Large Pond & Lake CPAs feature a 2 year manufacturer's warranty.
Questions about sizing an aeration system for your pond?  Email us today!